皆さん、ご存じかと思いますが、今夜、菅田のANNに出演させていただくことになりました。菅田は優しいです。さすがに最後になるやもしれません。菅田戯王もやるそうです。新たなカードの投稿お待ちしてます。デュエルスタンバイ。

菅田、そしてスタッフさん、そしてリスナーの皆様本当にありがとうございました。本当に。 #菅田将暉ANN
Everyone, as you are aware, tonight, I would be appearing on Suda's ANN. Suda is kind. As expected, it might be the last time. As well as Suda-Gi-Oh*. We await submissions of the new card. Duel standby.
Thank you very much to Suda, staff-san and listeners. Truly. #Suda Masaki ANN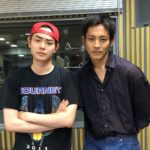 *Translator's note: Pun with Yu-Gi-Oh.