さあて、今夜は、ウチのぱっつぁんが来てくれましたよぉ!?久しぶりに楽屋で銀さんと新八の2ショット見て嬉しかったアル?さあて、次は菅田将暉をミュージカルに引きずり込むかな??
So, tonight, my Patsuan came! ? I was delighted to see a 2-shot of Gin-san and Shinpachi since it had been a while ? Now, I wonder if I should drag Suda Masaki into doing a musical the next time ??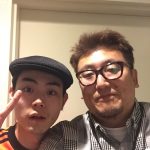 Suda went to watch 『Young Frankenstein』 which was directed by Fukuda and led by Oguri Shun yesterday.