ライブツアーが明日に迫った
本日のANNの打ち合わせも
いつもと変わらず笑いがいっぱいで
終了致しました!

デビューアルバム『PLAY』からも
新たに1曲、
「風になってゆく」が解禁されます。

ぜひ、リアルタイムでお聞きください!
Even though the live tour draws near – tomorrow
Today's ANN discussion
Ended with lots of laughter
As always!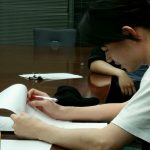 One more new song 「Kaze ni Natte Yuku」
From the debut album 『PLAY』
Will also be revealed.
Please listen to it in real time!