銀魂大ヒット記念と、夏バテ予防キャンペーンフォトでーす!今年の夏は異常に暑いから、早めにうなぎでも食べてスタミナつけて下さいね!?そして、スタミナつけたら、是非是非、劇場で銀魂観て、たくさん笑って下さいね!?っていうCM風写真?菅田くんの顔がバツグンです?
A photo to commemorate Gintama's success, and summer heat fatigue prevention campaign*! It is especially hot this summer, so please consume eel as soon as possible to increase your stamina! ? And, after gaining stamina, please watch Gintama in the cinemas, and laugh a lot! A ? CM-style photo ? Suda-kun's face is excellent ?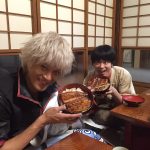 *Translator's note: In Japan, natsubate refers to fatigue caused by summer heat. Many restaurants roll out special menus to fight against it, and eel is one of the food items that can help to increase energy.