主演男優賞の菅田将暉さんを囲んで、選考委員のLILICOさんと。

菅田さんは、
「あゝ、荒野」「キセキ―あの日のソビト―」「帝一の國」「火花」
と変幻自在に4作品での受賞。

他に大河ドラマに主演舞台に、
2017年はまさに「菅田将暉の年」でしたね。

忙しすぎて体が心配だったけど、
人間ドックの結果も「超健康だった」そうで。

24歳の今後が、益々楽しみです。
(only the portion on Suda Masaki)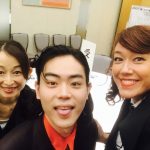 ↑↑↑
Selection committee members, LILICO and I, surrounded Suda Masaki-san who received the Best Actor award.
Protean Suda-san was
awarded for his versatility in 4 productions
「Aa, Kouya」 「Kiseki -Ano Hi no Sobito-」 「Teiichi no Kuni」 「Hibana」.
He also participated in a Taiga drama and stage production,
2017 was indeed 「The Year of Suda Masaki」.
Even though I was worried for his health since he was so busy,
It seemed like the result of his health screening was 「extremely healthy」.
Anticipating, the future of a 24-year old.