映画「帝一の國」キャスト発表されました。高校生の頃から知っている同世代が集結し、表舞台で共闘できる事に喜びを感じています。そして大好きな古屋兎丸先生作品。吉田鋼太郎パパ。興奮せざるを得ません。宜しくお願いします。
The cast for 『Teiichi no Kuni』 movie was announced. Thrilled to be able to act with members that I've known since high school and from the same generation. And I adore Furuya Usamura-sensei's works. Yoshida Kotaro daddy. How can I not be excited. Please watch out for us.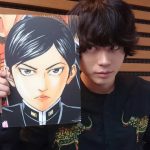 Is that why Suda Masaki loves furuya (second-hand shops) so much? Furuya-sensei also wrote Litchi Hikari Club, Ningen Shikkaku and many psychological themed manga series. I wonder if this is Suda's first solo lead…
[edit] Well the background was different so I guess they didn't take these photos together but the poses were similar =D [edit2] Seems like everyone will pose with their manga characters. Will add on if I come across more photos.