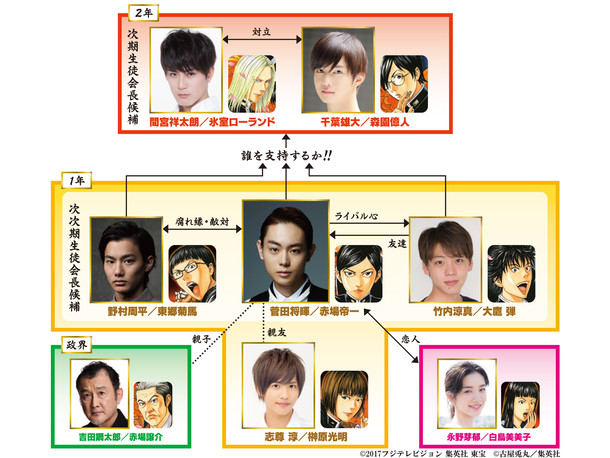 The other cast members of 『Teiichi no Kuni』 has been announced:
◊ Shison Jun as Sakakibara Koumei (Teiichi's good friend and classmate)
◊ Takeuchi Ryoma as Ootaka Dan (Teiichi's friend and classmate, and Teiichi feels competitive around him)
◊ Nomura Shuhei as Tougou Kikuma (Teiichi's rival and classmate)
◊ Chiba Yudai as Morizono Okuto (upperclassman)
◊ Mamiya Shotaro as Himuro Roland (upperclassman)
◊ Nagano Mei as Shiratori Mimiko (Teiichi's childhood friend and girlfriend)
◊ Yoshida Kotaki as Akaba Jousuke (Teiichi's father)
And most of us already know that Suda Masaki will be protraying the protagonist, Akaba Teiichi, who aspires to be the Prime Minister and making Japan the number 1 country in the world. It will be released on 29 April 2017. Will translate Suda's tweet later.